Global wireless fire technology pioneer Hyfire has releases a comprehensive update to its ground-breaking TauREX software package, with a series of enhancements that will be transformative for anyone installing and maintaining Taurus wireless fire systems.
Designed as a single tool for the installation, commissioning and maintenance of Taurus systems, TauREX software has played a key role in the transformation of wireless from a niche technology to a mainstream choice in the fire industry. With the launch of TauREX 1.3, Hyfire is making things even better, with enhanced usability and speed of programming, as well as a new feature that optimizes and streamlines maintenance work.
"With Taurus devices and the systems that support them, we're committed to making regular enhancements to the capabilities and reliability they can provide, and regular software updates are just one part of this," said Tom Crane, Hyfire International Director. "Thousands of fire installers and end clients have already chosen Taurus devices due to their performance, efficiency and reliability, and the latest TauREX update builds on this to deliver an even smoother, simpler experience for installers, fire engineers and technicians."
The new version of the TauREX software streamlines the user experience for the Taurus range, simplifying the programming and maintenance processes to make them faster and more convenient. The update enhances usability and refines the process of associating network devices (translators and expanders) and field devices. Instead of matching field devices one by one, users can 'Select all' and link them to the chosen Network device.
Additionally, the update fine-tunes the EasyScan feature, enabling Taurus devices to be installed through a QR code. Users can add devices to the system using the camera on their PC or a handheld scanner. Finally, an enhanced  'Drag & Drop' feature:  when a network node is  moved from virtual warehouse to the active map, associated devices will be automatically "grouped" with the network node which vastly increases the efficiency of using the software.
Hyfire offers the widest range of commercial standard wireless fire devices on the market, ranging from optical, multi-criteria and heat detectors to EN54-23 Approved VAD's, all fully certified to EN54. All products offer the highest performance and quality in the industry, and are also fully compliant with BS5839 Part 1.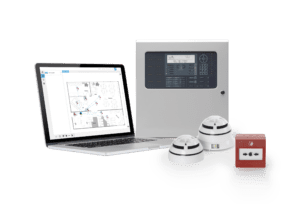 Mr Crane added: At Hyfire, we think outside the box and take pride in the innovation we bring to the fire industry. We knew that wireless devices could equal the performance of wired systems, with no drawbacks and multiple benefits, and Taurus is the proof that this aim was not only achieved, but surpassed. But our commitment to excellence doesn't end when you buy the product; in fact, that's just the beginning.
"For example, fire devices normally get an update every five to 10 years. We don't agree with this practice. In fact, we think that the customer deserves constant support and updates throughout the lifecycle of the product. Some people have likened this approach to Apple, who add new features to existing iPhones with new releases of iOS, but for us it's simply common sense, using software and firmware updates to ensure that Taurus products remain at the cutting edge of fire technology, and thus maximising the performance potential of the physical devices."
Developed in Trieste, Italy, the global centre for wireless fire design, Taurus features Pathfinder Technology, which allows the devices to communicate over 1km, point to point in open air, and further where expansion hops are used. Antenna technology has been optimised to allow communication across different frequencies and environments, which means that Taurus can do the job with less equipment and less batteries, thus saving on costs.
Hyfire was launched in 2007, bringing to market some of the first commercial wireless detection and alarm devices fully certified to EN54. Since then, the Hyfire brand has become synonymous with quality, reliability and innovation in the commercial fire sector. Hyfire devices come with a five-year warranty, backed up by a dedicated partner programme. Hyfire is also part of The Orama Group, an alliance of companies that are committed to keeping people and their environment safe using the power of wireless fire technology and digital systems.