We are pleased to announce the appointment of Brett Boyd as Regional Sales Manager for London & South East. With a wealth of experience in the fire protection industry, Brett is well-equipped to provide exceptional service and support to Hyfire's network of partners in the region.
Brett has an extensive background in project planning and expediting roles within large construction companies, such as Bateman, Sandvik, Tenova, and Murray & Roberts. In 2014, he joined a fire protection company in Johannesburg as a Fire Detection & Special Risks Sales Rep, later moving on to a fire and security distribution company, as a product specialist for fire detection equipment. Most recently, Brett served as a Business Development Manager in the South East and London for a well known global manufacturer.
Brett commented: "I'm thrilled to join the Hyfire team and look forward to leveraging my expertise to contribute to the company's ongoing success. I was drawn to Hyfire by the chance to work with a market-leading manufacturer that offers an impressive array of wireless and fire devices. My goal is to maintain the high level of service our existing partners have come to expect, while actively seeking new opportunities to expand awareness of the Hyfire brand and drive growth."
Tom Crane, Hyfire International Director, commented: "We're delighted to have Brett join us at Hyfire as our new Regional Sales Manager for London & South East. His extensive experience, industry knowledge, and commitment to exceptional service make him a valuable addition to our team. We look forward to working together to continue expanding our market presence and providing unparalleled solutions to our partners and customers.
"With our top-of-the-line Taurus range of wireless fire devices to showcase, and Brett's personal dedication and genuine enthusiasm for the role, I'm confident that he will hit the ground running and generate results. Demonstrating to our installer partners how they can incorporate wireless technology within their projects is a key growth area for us, building upon almost two decades of wireless innovation. With Brett on board, we are even better placed to push things forward."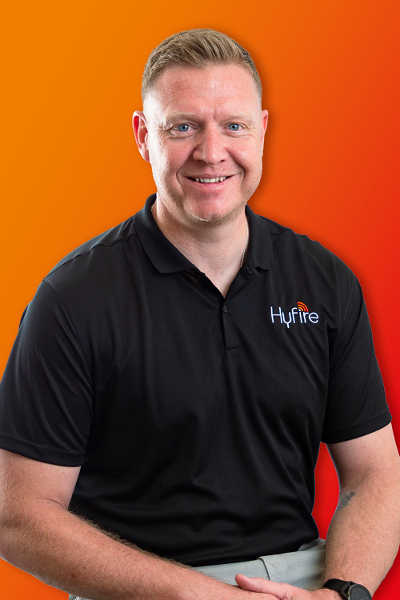 Originally from South Africa, Brett now lives in Sevenoaks, Kent, following his decision to relocate to the UK in 2019. He holds a Diploma in Electrical Sound Engineering from Damelin College and has completed various fire protection short courses, including an IFE Level 2 Certificate and training in Gas Suppression Systems, Understanding Fire Detection (SANS10139), and Detection System Design (SANS10139).