Hyfire has boosted its UK team with the  appointment of Martin Lee as Business Development Manager (UK & Ireland) and Richard Williams as Regional Sales Manager – South West.
Martin, 47, has worked in the fire industry for 26 years, most recently in a senior sales role with a well known global manufacturer. His role will be to develop the Hyfire brand and to promote it to key partners, end users and consultants. Richard, 35, will take charge of developing existing Hyfire partnerships in the South West region, and identify new opportunities as the takeup of wireless fire technology continues to accelerate.
"Hyfire has developed a fantastic product in the Taurus range and this, combined with the structure of a great sales and technical team, made the opportunity very exciting," said Martin, who lives in Leicestershire. "I see the Hyfire business going from strength to strength as we continue to build market share, and become an increasingly significant disruptor in the wired marketplace."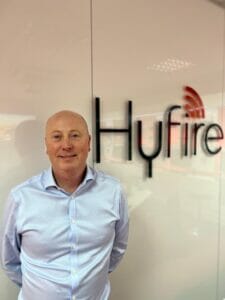 Hyfire offers the widest range of commercial standard wireless fire devices on the market, ranging from optical, multi-criteria and heat detectors to notification, interface and control units, all fully certified to EN54. All products offer the highest performance and quality in the industry, and are also fully compliant with BS5839 Part 1. The company has also recently introduced EvacWireless, a rapid and scalable solution to meeting the BS8629 evacuation alert standards in residential buildings over 18 metres.
Tom Crane, Hyfire International Director, commented: "One of the few positives to come out of the pandemic is that end users and installers are beginning to appreciate the inherent advantages of wireless fire systems, and the continued expansion of our sales and business development teams is a major fact in helping Hyfire to capitalise on this growth. Both Martin and Richard have key roles to play in the continued Hyfire success story."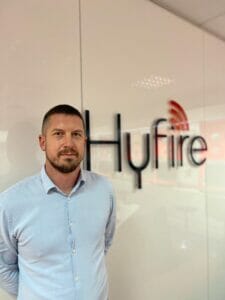 Bristol resident Richard started out as a fire and security apprentice before completing an electro-technical qualification.
He worked his way up the industry ladder and, after a stint in an estimating and bid management role, he was worked in sales and account management teams for the past seven years.
Richard said: "I was attracted by the company culture, and how they offer industry-leading products backed up by superb service. I'm going forward to building on the established business in the South West."
Hyfire was launched as Sterling Safety Systems in 2007, bringing to market some of the first commercial wireless detection and alarm devices fully certified to EN54. Since then, the Hyfire brand has become synonymous with quality, reliability and innovation in the commercial fire sector. Hyfire devices are available for Advanced or Kentec panels and come with a five-year warranty, backed up by a dedicated partner programme, to ensure the best survey, installation, commissioning, after sales service and exceptional technical support.